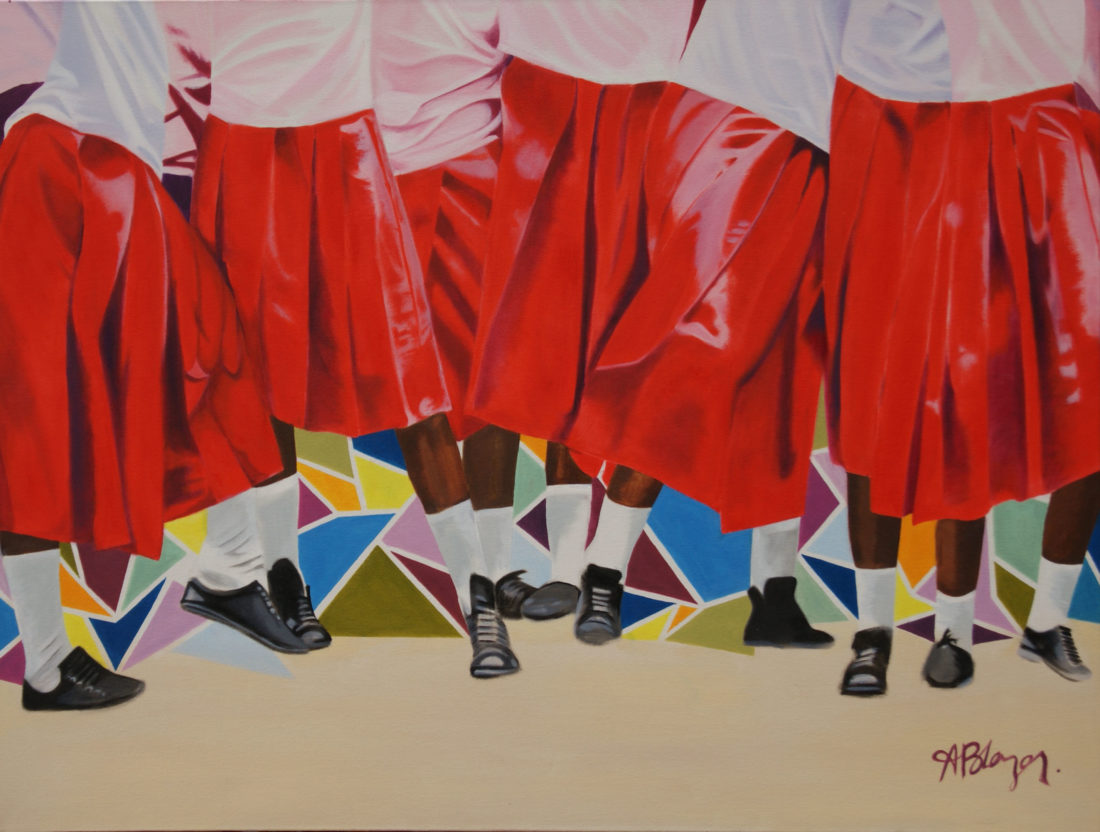 21st Apr 2020
21st Apr 2020 /
Updates
Art for Good
Over the last week we have seen an enormous amount of support from around the world and we are so appreciative of all the people who took part in the RISE Up challenge on Sunday. Beyond the overwhelming sense of community that was felt and seen, we were able to raise some funding for our new research program Research and Innovation for the Serengeti Ecosystem.  
Now, we are equally excited to launch another campaign highlighting the work of the Grumeti Fund through a series of paintings by Ashley Blazer, an artist out of Austin, Texas, who is kindly donating 50% of the proceeds from each painting directly to the Grumeti Fund.
Ashley writes:
I am so thrilled to finally be able to share with you a very special labor of love that I have been working on over the past 8 months. The time I have spent in the Serengeti has impacted my life profoundly, and I have been humbled by the opportunity to create paintings that I hope will allude to the magic that exists in this special part of the world. I'm so excited to share them with you! 
When I first visited the western corridor of the Serengeti in 2004, wildlife populations were dwindling and poverty was rampant. When I returned in 2017, I saw firsthand the impact that the Grumeti Fund's presence has had in this fragile ecosystem: threatened species have been restored to healthy numbers and local communities work in partnership with the Grumeti team on environmental protection initiatives and robust community development projects. 
It has been an honor to work with the Grumeti Fund to create a series of paintings designed to illustrate the organization's footprint in this special part of the world. 50% of all proceeds will support the Grumeti Fund's ongoing efforts to sustainably manage and preserve the Serengeti wilderness. 
If you've been kind enough to follow my artistic journey, you're probably aware that gender equality is a very important issue to me. Before becoming a full-time artist, I worked on development programs in East Africa, so I wanted this series of paintings to include a piece that celebrates the Grumeti Fund's Girls Empowerment initiative.
Known to most as The Lion King's beloved "Zazu," the hornbill's contributions to the Serengeti ecosystem far outweigh those of a mere pesky chaperone. Von der Decken's Hornbill maintains insect populations and aids in fruit pollination through the spread of seeds in its droppings.
The restoration of the western Serengeti's African elephant population has been one of the Grumeti Fund's greatest success stories, and I wanted this painting to celebrate that success as well as the triumph of the species itself. Despite the persistent threat of poaching to wildlife populations across Africa, the elephant population in this area has increased fourfold since 2003 as a result of Grumeti Fund interventions. You'll notice a shadowy figure in the background, too – the Grumeti Fund infiltrates former poachers into its anti-poaching game scout unit, arming them not only with an understanding of the economic benefits of wildlife protection, but also with a secure employment alternative. What's more, the Grumeti Fund has introduced a special canine detection and tracking unit of highly trained dogs who, under guidance of their skilled handlers, keep a watchful eye over wildlife populations. In my opinion, it doesn't get much cooler than pups fighting poachers. "Kulinda dunia yetu" is Swahili for "protect our earth," a message that transcends all areas of Grumeti's programming and one that serves as a good reminder to us all.
Rehabilitation of the severely endangered East African Black Rhino population is central to the Grumeti Fund's wildlife protection work. Grumeti is working in partnership with the Tanzania government to translocate and reintroduce black rhinos to the Serengeti – I highly recommend following along on this fascinating journey in which these incredible creatures are literally plucked from zoos and other donor environments and reintegrated into their native habitat. I wanted this painting to portray the resilience and power of these animals as they persist against the odds, but also to acknowledge the darkness of the threats that have haunted the species for decades.
The African Wild Dog is another endangered species (a personal favorite!) that tends not to receive the level of media attention that surrounds the "big 5" or other popular threatened species. The lesser-known but equally beautiful African Wild Dog is a cunning, elusive and playful species that represents another of the Serengeti's natural treasures. In the interest of increasing visibility of the species and its current crisis, I give you this portrait of the African Wild Dog. The painting's background pattern was inspired by a textile worn by Pili Matondo, a local woman who is part of the Grumeti Fund's Rural Enterprise Development Program and suggests the animal's current vulnerability as a poaching target.
 Ashley (pictured below with her husband Brannen on a trip to Grumeti in 2017).
Follow her on Instagram or head over to her new website to purchase a painting!