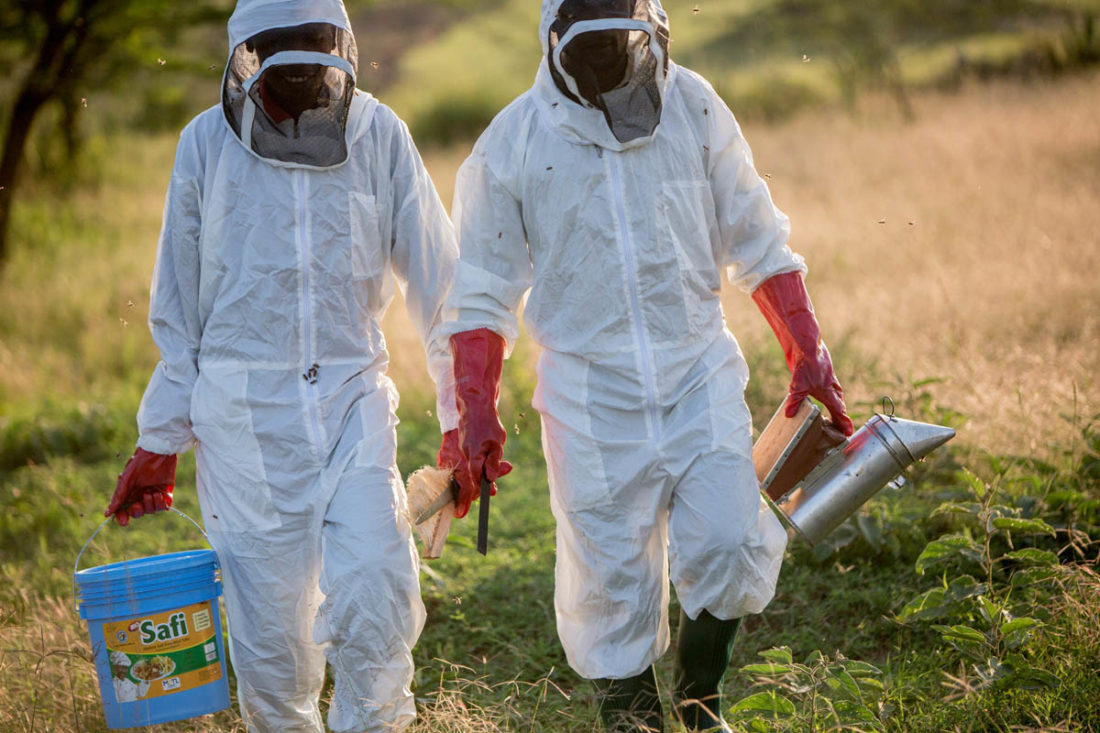 21st Nov 2016
21st Nov 2016 /
Updates
Benefits of Beekeeping
The Grumeti Fund's work extends much beyond the protection of the fauna and flora located within the protected area. One of the main focuses of the organization is our Community Outreach Program, which is working with over 20 nearby villages. Our relationship with these respective communities began in 2003 and continues today with a primary focus on education and the sustainable development of small and medium enterprises.
Beekeeping For Biodiversity Conservation & Livelihood Enhancement
by Frida Mollel, Program Officer for Natural Resources Management and Conservation
There has been much written about the plight of bees on a global scale, and the disastrous impact their dwindling populations could have on the ecosystem, specifically to commercial agriculture and food production. Conserving bees means sustainable environmental conservation and enrichment of biodiversity. The reality that exists however is that most local forest reserves have been exhausted as a result of charcoal making, overgrazing and cultivation.
Grumeti Fund, through its Community Outreach Program has been promoting beekeeping projects as a way of promoting conservation of indigenous flora and forests whose pollination depends on bees. While the beekeeper benefit financially from the sale of honey, at the same time the natural forests are recovering and bees are being conserved.
In 2010, the Community Outreach Program began generating awareness in the neighboring villages on beekeeping as a source of income and a best practice for the conservation of natural forests. To date, 13 beekeeping groups are practicing beekeeping with more than 1200 beehives.
Because of beekeeping, the Gurmeti Fund is witnessing significant conservation outcomes. Formerly degraded areas are now covered by thick bushes and trees and more and more bee colonies are evident. Through the recovery of these areas we have seen that beekeeping is benefiting conservation, while simultaneously providing direct income for beekeepers.
Beekeepers receive support from the Grumeti Fund through: training on beekeeping as an income generating activity, environmentally sustainable beekeeping, identification of appropriate bee hives locations, honey harvesting, processing, packaging, record keeping and marketing.
Generally speaking, the beekeeping project is expanding every day. More and more people are expressing an interest in purchasing beehives and existing beekeepers are increasing the number of hives.
May to June, 2016 produced a bumper harvest of 562kg of honey which is expected to generate over $2,000 in revenue. Customers include the Singita Grumeti Lodges, staff, and individuals living far afield as Arusha and Dar es Salaam.
The future prospect of the beekeeping project is exciting and is growing very fast.
Through beekeeping we truly feel that the people and communities engaged in this project are experiencing a triple benefit – livelihood improvement through the sale of honey, an increase in the number of bee colonies and the rejuvenation of local indigenous forests.