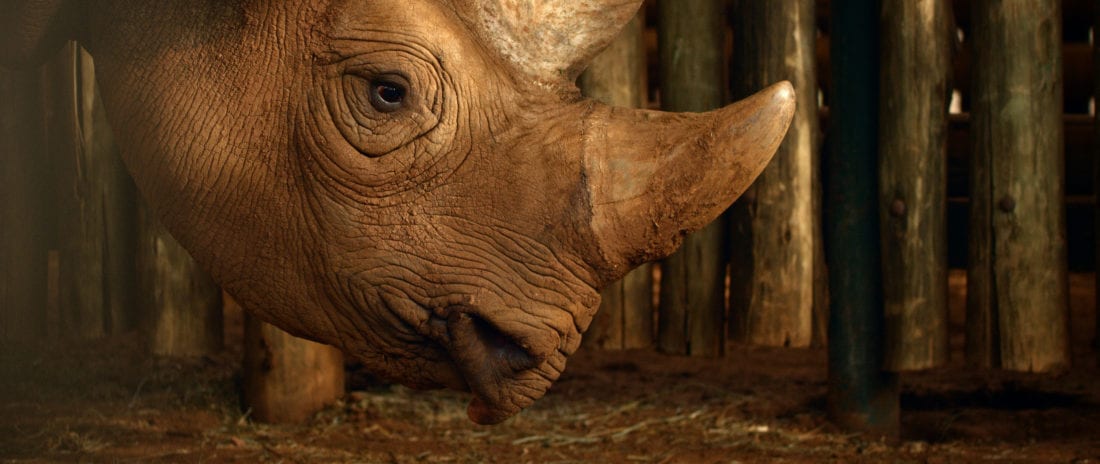 22nd Sep 2018
22nd Sep 2018 /
Updates
Eric Settles In As We Celebrate World Rhino Day
Eleven days after his epic journey across the world, Eric is doing extremely well.  Relaxed and more and more at ease in his new surroundings, Eric is transitioning really well from his zoo based diet to indigenous browse and even learning how to eat thorns (although we did have to cut them up into tiny pieces to start)!  His mud bath is his favorite spot in the enclosure and he is now able to move back and forth between the boma and the small paddock outside.  Eric's transformation from a zoo rhino to a wild rhino is exciting and an incredible process to watch.
The female eastern black rhino, Laikipia, who resides in the larger area of 276 hectare rhino intensive protection zone is also having quite an exciting week as she discovers that her new mate is close by. While they are not able to come into direct contact with one another quite yet, they are certainly curious to find out more…we hope this bodes well for future interactions!
To implement a rhino expansion program takes a lot of effort and collaboration.  We are very grateful to the Tanzanian government for supporting this program and to our partners at San Diego Zoo Safari Park for donating Eric.  The rhino security plan which is integral to Eric and Laikipia's safety, as well as the protection of the entire concession, is supported by our partners Vulcan Inc, through their program EarthRanger (formerly known as DAS).  Other locally based conservation organizations like Frankfurt Zoological Society are also key to this program's success.  We believe that to have a positive impact on the protection of critical ecosystems, like the Serengeti, collaboration between organizations is key.
Follow us on Instagram for more updates
Donate here to support our eastern black rhino expansion project