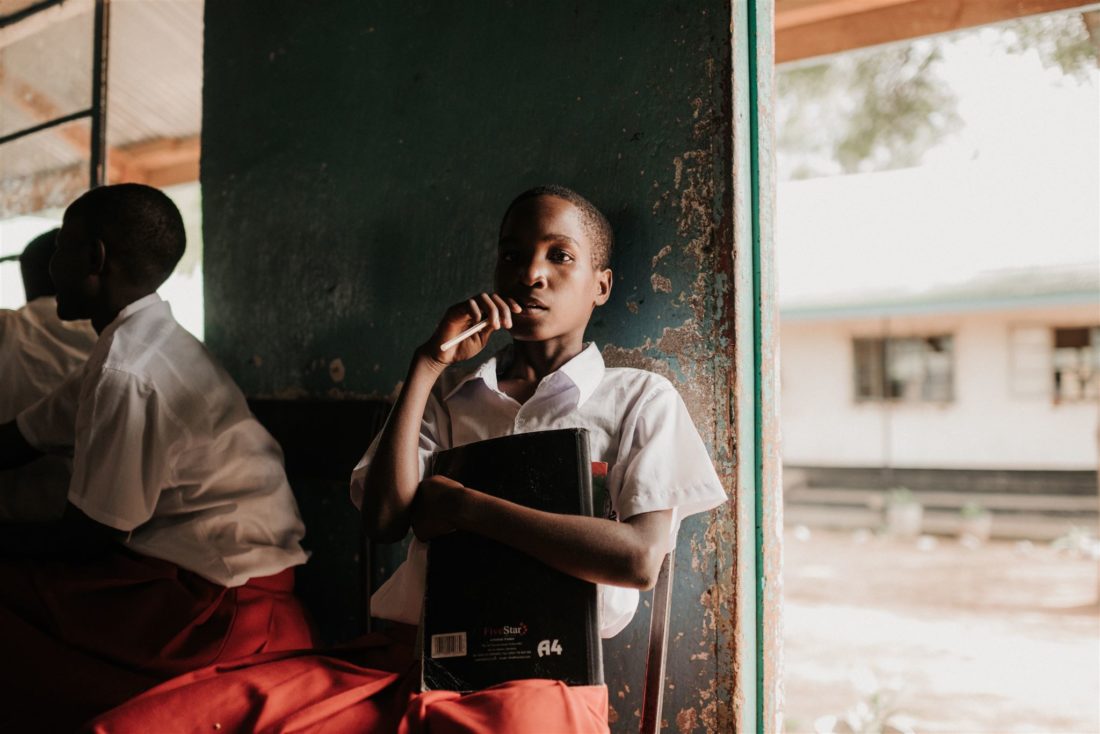 Learning Remotely During These Challenging Times
The Grumeti Fund through our community outreach program continues to successfully enhance the quality of education provided to the youth from local communities. Our hope is that we'll equip them with knowledge, values, and skills they'll use to pursue rewarding careers. Despite the challenging circumstances COVID-19 has brought this year, the generosity of our donors has allowed us to continue sponsoring more than 140 students at different levels of education i.e. secondary education, vocational studies, and university. Unfortunately, on March 17th, 2020, following the finding of the first COVID-19 case, the Tanzanian Prime Minister announced the official closing of all schools and universities across the country. All students including our scholarship recipients returned home with no return date in mind.
Stella Peter, a student at Issenye Secondary School, is one of our scholarship recipients preparing to sit for her Form II final exams in November 2020. Like other students, Stella is currently at home as a result of the school closures. Despite the fact that school is not in session, the date of her Form II National exam has not changed. She is still preparing to sit for her exams in November.
During this time, she and all other students are learning through television programs.  The government has introduced digital learning content in which teachers continued to go through the syllabus that would have been covered if schools were open on national television. However, digital learning is a new phenomenon for most students in Tanzania so, this new way of learning has been a challenge especially for students in rural communities like Stella, who lives in Nyiberekera village in Serengeti district.
"Studying at home is very challenging because my village doesn't have electricity and my parents cannot afford a solar-powered television. I am forced to walk about 3 kilometers to my friend in the next village who has a television at home so that I can attend the digital classes on the television programs," says Stella. Even though she has to walk for 3 kilometers back and forth, Stella still considers this a great opportunity to recall all the things she had learned in school, and continue going through the school curriculum and revise for her impending exams.
Stella continues to say, "I cannot do my evening study sessions like how I used to do when I was at school because as a girl, I have to help with house chores like fetching water, cooking and looking after my siblings when my parents are not around at home." Nevertheless, she is determined to keep to her study schedule so that she doesn't remain behind the curriculum when school reopens. So, Stella keeps track of the material she covers and feels like she will have a better idea of what the teacher will be teaching once she is back at school.
"Studying at home is different from studying at school! Sometimes I lose motivation at home because the environment is different -I am not surrounded by teachers or classmates. But I still make time to study by following my usual study schedule and getting rid of all destructions that may interrupt my studies. This helps to keep me engaged, learning, and understanding the key ideas that I want to remember and retain. I would like to thank Elizabeth (the Grumeti Fund Education Project Officer) for convincing my parents to reduce house chores so that I can get enough time to study. I would also like to thank my mentor Gekuli (who is a Lodge Anchor at Singita Grumeti) who bought school textbooks for me to use for my studies while at home.