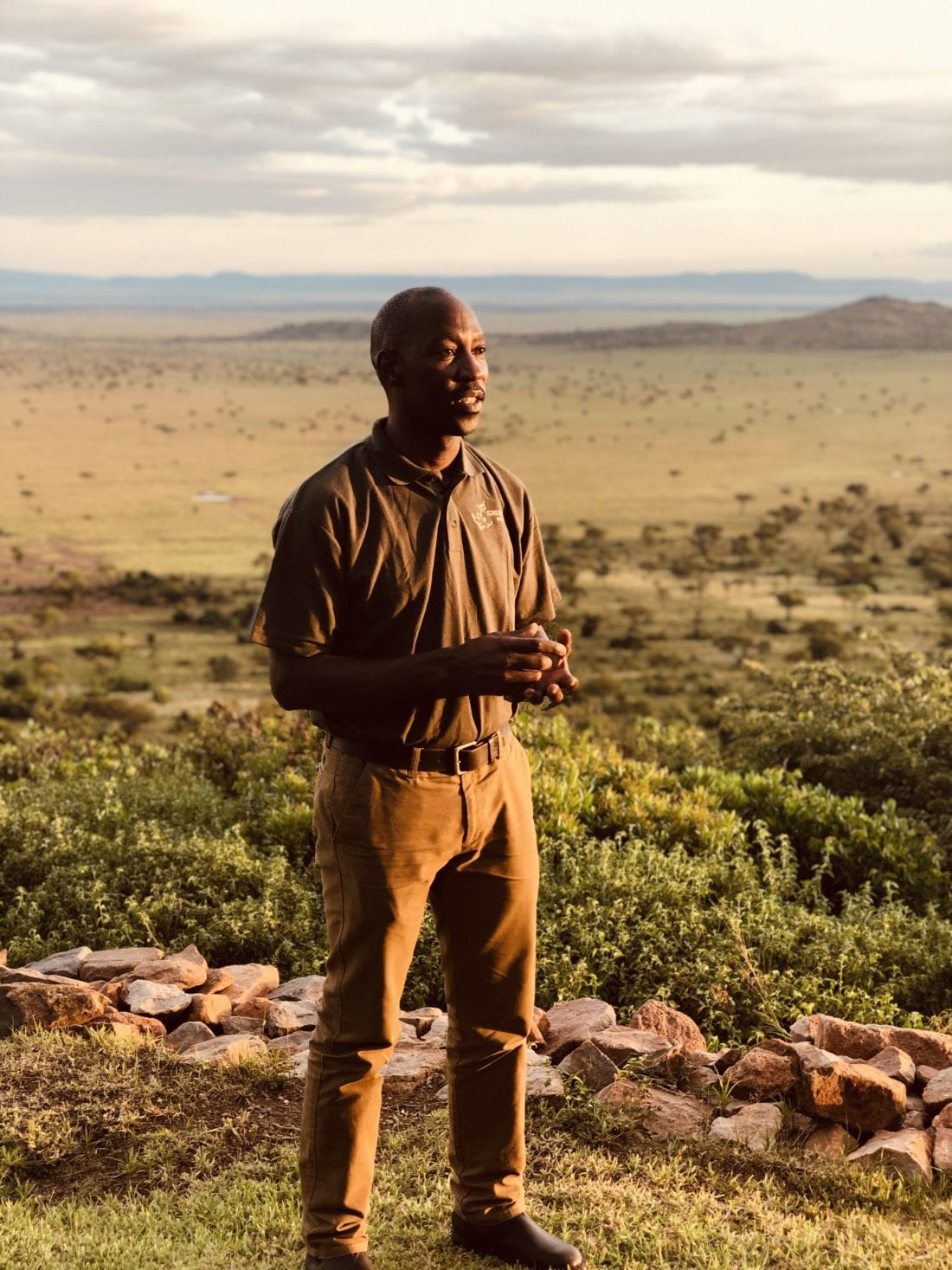 On Imparting Environmental Awareness to Youth
Since its inception in 2009, the Grumeti Fund Environmental Education Center (EEC) has seen over 5,000 students and teachers come through its open-air classroom.  One extraordinary man, Laurian Lamatus, has run this center with unwavering enthusiasm – for the environment, for girl's empowerment, for changing perceptions and increasing awareness amongst the youth who will be the leaders and changemakers of tomorrow.
We asked Laurian a couple of questions to learn more about him and the EEC.
Interviewer: Why have you chosen to educate the youth as the way to reduce human impact on the earth's climate?
Laurian: Human population is currently over 7.5 billion, and there is no sign that the number will decrease down the line. So, my thought is that the only way to help mother earth sustain our daily needs and reduce the depletion of the resources we all depend on is environmental awareness. Awareness has the power to convince individuals to act positively and sustainably towards the environment. Sustainable use of natural resource while considering the future stock will always help the planet recover and provide more to all organisms in the ecosystem.
As an environmental educationist, I see the power education has to change people's mindsets and decision making. Environmental education has everlasting impacts on youths in particular because they affect their schools, families and communities positively. And as they continue to make environmentally sound choices for the rest of their lives, generations become environmentally conscious.
Interviewer: Has this approach worked so far?
Laurian: The evidence is in the change that is already happening. Schools that I've managed to engage in environmental education have started and are managing environmental initiatives all on their own. Teachers are supervising environmental focused programmes such as debate, fine art and essay competitions, greening programmes and beekeeping. All these make schools with EE programmes look entirely different. They find their students practising proper waste disposal, and the schools become free of wastes. The students take these initiatives to the next level. They start cleaning their homes. They start thinking like the leaders they are and focus on impacting the greater community.
Interviewer: How is the work you are doing here, adding to the global conversations on climate change?
Laurian: Recently, we've joined world initiatives to protect worldwide biodiversity through the youth. Five of our students recently attended the World Youth Wildlife Summit held in Kruger National Park, South Africa. The conference was a call for the world youth to come together and forget their borders in favour of protecting threatened and endangered flora and fauna. Our students hold skype call meetings with peers from all over the world, so there is an understanding of what others globally are doing to help our planet. The Grumeti Fund has linked the EEC students to the Lisbon Zoo and Texas Girls' School, to add value to local youths' environmental knowledge. We firmly believe that greater youth involvement will push the world -especially the decision-makers- to think critically when it comes to matters and decisions pertaining to the environment.
Interviewer: Has this work changed you?
Laurian: Personally, environmental consciousness has changed my life in so many ways. My family and I started our own greening project at home. We now own more than eight thousand trees and plan to reach ten thousand in the near future. We are also thinking of establishing a beekeeping project to increase food production. It's also nice to see how the EEC impacts the youth. I mean, the students go back to their schools, and they take the program to the next level.
Interviewer: Any last words?
Laurian: We live, eat, and breath in one planet, we need to take care of our world so that it may continue to provide for us.
The change Laurian seeks is already underway. There are over 50,000 different species of trees planted in 15 schools under his guidance. His students have also gone on to become environmental conservationists and climate ambassadors influencing schools and communities to make environmentally sound decisions. His work is resounding, and we are not the only ones who think so. Laurian was recently featured in a CNN African Voices Changemakers episode.
This holiday season, we welcome you to donate to the EEC and amplify Laurian's work and support our 2020 programs.