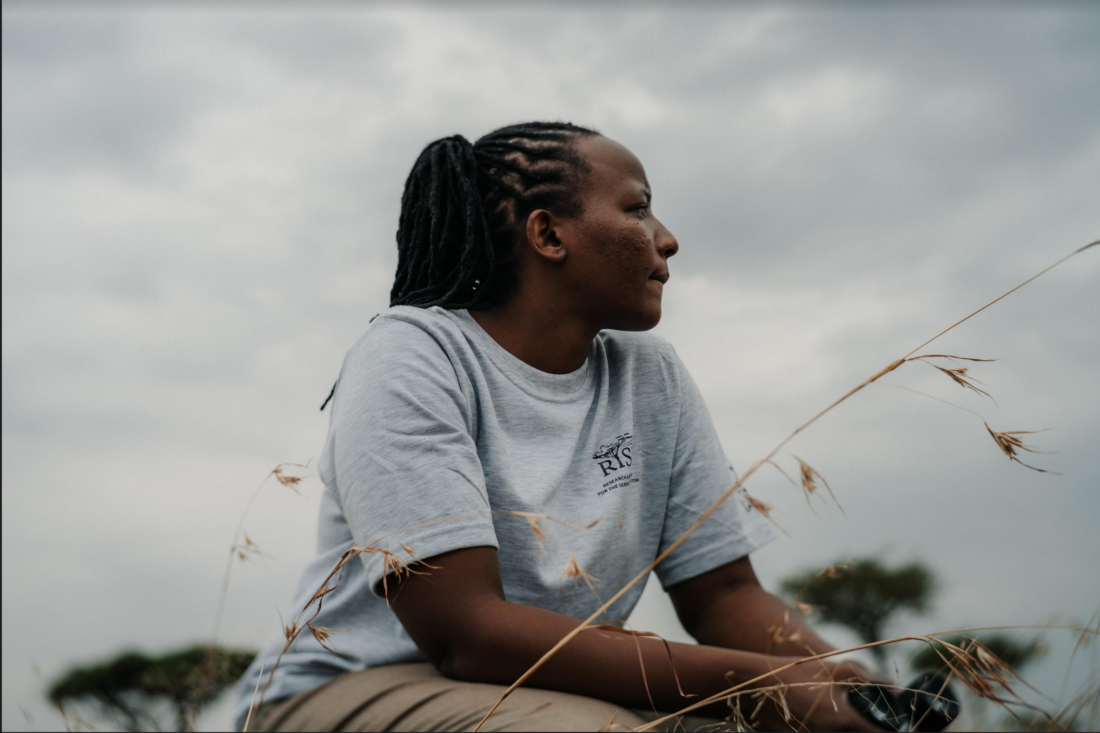 16th Jan 2023
16th Jan 2023 /
Updates
Women in the Field Program Spotlight
The Grumeti Fund is committed to fostering the next generation of empowered, female conservation leaders. Through the Women in the Field (WIF) program, Grumeti Fund has helped develop the skills and experiences of more than 28 women since 2019. The WIF program started in 2019 with just four participants and has since grown to accept between 12-16 participants during the two sessions hosted each year.
The program provides practical and application-based training in ethical ecological and social research methods, data analysis techniques, and career development tools. After their three-week session, participants are better equipped with the skills and experiences they will need to pioneer an impactful career in conservation. In addition, participants leave with a community of women pursuing or advancing careers in conservation and research.
Many WIF participants will eventually pursue critical research in their fields, and some have already begun to make an impact. Two of those participants include Vainess Lazier and Lucia Romward. Vainess was a member of the first WIF cohort that completed the course in 2019, and Lucia participated in one of the 2021 WIF sessions.
In 2021, Vainess returned to Grumeti's RISE facility to better understand White-backed Vulture nesting patterns in the Ikorongo – Grumeti Concession. She has spent the past two years conducting surveys on this critically important species – examining habitat characteristics that influence nesting, behavior, and fledging in the area. Vai's research could help identify threats to the regional vulture population, which could help inform conservation decisions regarding the species' protection and the health of their riparian habitats.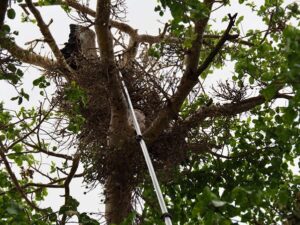 Vulture nest is surveyed using a GoPro and telescoping rod.
Women in the Field Spotlight: Vainess (Vai) Laizer
Vainess was a member of the very first cohort of WIF participants. At the time, Vainess had been training as a safari guide, but she was looking to pivot toward a career in conservation and research. Vai saw WIF as an opportunity to leverage her toward a career in conservation and research; being a women-focused program, she felt that WIF was exactly the training she needed to break into the male-dominated wildlife sector.
After being asked about how WIF has impacted her current research, Vainess explained that  "WIF was an eye opener for [her] career path." Vai gave WIF credit for bolstering her confidence to pursue research and conservation work. WIF introduced Vai to mentors and inspiring female researchers – including RISE's Head Scientist, Dr. Kristen Denninger Snyder – who demonstrated the incredible impacts women can have in research and conservation. Vai explained that the community of women at WIF helped her to understand that her dreams were both valid and possible.
"Grumeti Fund and RISE have been blessings in my life because they have given me a platform to showcase my abilities and go after what I really want to do."
Vai completed WIF feeling more empowered to find people driven toward the same goals and objectives she is. Confident in her skills, abilities, and her aspirations, Vai has been able to overcome the challenges of being a female leading a research team. She mentioned that WIF showed her the importance of teamwork in navigating challenges and hardships in the research space.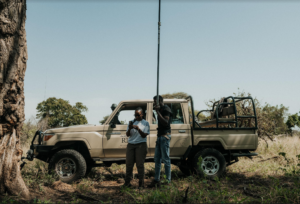 Vai records data from the vulture nest survey while she leads a research team in the field. She transmits videos and photos of the nests to her phone from a GoPro camera that is mounted on a telescoping rod.
Speaking about pursuing a career in research, Vai explained: "It is not always a smooth ride [being] a woman in this space…[but] it can be done –  it is not something only men can do, but also something women can do as long as you have passion."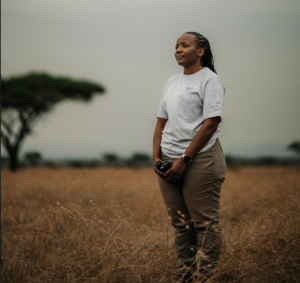 Vai's advice for other women that want to embark on a career in conservation:"Go for it…your dreams are valid…surround yourself in an environment that helps you grow. Be driven to be true to yourself and pursue what is right."
In the future, Vai hopes to see conservation, research, and high-level decision-making become more integrated. Additionally, she hopes to see more organizations fund diverse and innovative research projects that are critical to making informed decisions.
Vainess graduated from the College of African Wildlife Management University with a bachelor's degree in Wildlife Tourism in 2017. She is a current MSc student at the Sokoine University of Agriculture and will be graduating this year.  Vainess is considering pursuing her PhD in the future. Vainess aspires to be a leading Vulture Researcher (and we have no doubt she will accomplish that!). 
Women in the Field Spotlight: Lucia Romward
Lucia joined Vainess in 2022 as a research trainee and assistant and has since accompanied Vainess in the field conducting nesting surveys and in the office analyzing data. Lucia was connected to Vainess through her WIF network which recognized her and Vainess's mutual interest in vultures.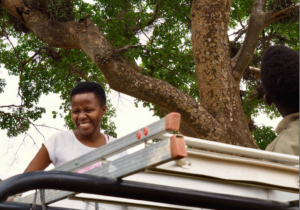 Lucia (left) laughs while working in the field.
WIF was naturally interesting to Lucia, who has long been motivated by women in the conservation space, especially those that make strides in conservation and research while also managing the responsibilities of everyday family life. In an interview, Lucia mentioned that famous female conservationists, like Jane Goodall, have always inspired her as a woman in conservation. Lucia came to WIF eager to work alongside other women driven to make positive impacts in conservation and research.
When asked about how WIF might advance her career in the future, Lucia explained that WIF equipped her with diverse skills and mentorship that have made her a competent researcher. She also explained that working alongside other women helps to foster confidence in the field, which can help in overcoming challenges in the space.
Lucia is confident that more and more women are receiving opportunities to work in conservation and research. She explained: "I think we are progressing. I expect to see more women working in conservation [in the future] than I see today." Women are vitally connected to the environment, and in many ways, the future of conservation and environmental protection hinges on them.
When asked about why it is important to include women in conservation, Lucia explained that women physically interact with the natural environment often in Tanzania; in addition, because women often have the responsibility of raising children, women with awareness and connection to conservation will raise the next generation of Tanzanians to be connected to nature and conservation.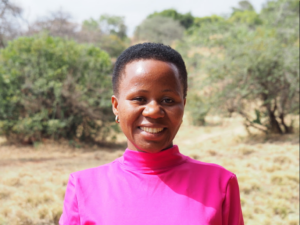 Lucia's advice for other women that want to embark on a career in conservation: "Whatever a man can do, a woman can do…learn to face challenges with confidence…seek good mentors [that advocate for and with you]."
Amongst the many topics Lucia learned about during WIF, she was especially interested in topics about conducting social research and including communities in conservation initiatives. She elaborated:  "When you speak of conservation you cannot exclude communities because many of the initiatives rely on communities – we must engage the communities, raise awareness, integrate with indigenous knowledge, and include their perspectives. Conservation without communities is impossible."
Lucia completed her undergraduate studies at the University of Dar es Salaam in 2020 with a BSc in Wildlife Science and Conservation. She plans to pursue her Master's degree in a related field in the near future, potentially focused on the interactions between communities and threatened species, like elephants and vultures.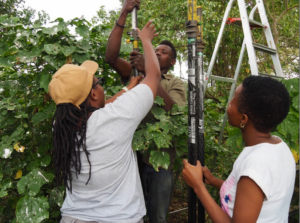 Vai (left) and Lucia (right) surveying a vulture nest in the Ikorongo – Grumeti Concession with field assistant Mahmoud (center). 
Vainess and Lucia represent just two of WIF's wonderful participants. The Women in the Field program will continue to empower Tanzanian women to overcome barriers in their pursuit of meaningful and impactful conservation and research careers. With their perspectives in the field, these WIF participants will advance a future of conservation that will be more diverse, innovative, and equitable.
Partnered with WIF's incredible participants, like Vainess and Lucia, Grumeti hopes to pioneer a future of conservation leaders who break the boundaries of what is possible for young, pioneering women in Tanzania.
To donate to the Women in the Field click here.